I've been stuck trying to find words for the past couple months and sifting through the infinite images of summer's end, late august, September and then into Autumn's October, has paralyzed me to begin. Nature waits for no one. It just keeps giving and changing. The deciduous forest mutations from yellow, to orange to blood red continue. The leaves fall no matter how much we're hanging on and I hear Wordsworth chanting from the grave: to begin, begin.
Calgary, Nurture Retreat, Detroit, endless weddings, beach visits, nature walks, garden harvest (too many tomatoes) and cleanup (so many weeds), long-distance lovers (Sim took a UK job where he's been traveling for almost 2 months – we see each other in 48 hour stints), cats with fleas (this meant cleaning for days on end while Sim was away – holistic concoctions of lemon, tea tree, citronella, geranium and witch hazel blends only to resort to vet visits, high chemical premise sprays and advantage serum for the little fury beasts – at one point I was in the dark lighting tea lights in soapy water on plates and placing them in each room of our house as a natural flea trap; it was my moment of September madness), book clubs (currently ready Patti Smith's M Train), new found coffee shops ….
Photographer Alyssa Wodabek, captured Nurture Retreats in such an authentic way on her blog in a three part series. This weekend of teaching and self-care was one of the most serene moments of summer. I am so grateful to Sonja, our founder, for bringing me on board.
I won't cover it all here. I will leave it for another day because there's too much to say. I've been living so much lately, which doesn't leave a lot of room for writing. Working on Emerson's living deeply so that I can believe. So yes, I'm leaving more words for winter when subtler hues of grey, brown and white settle me into slowness and my time outdoors ceases to be daily.
I laid awake in a single cast iron bed, covered by a red quilt with the sound of cars buzzing by on the main strip of Michigan Avenue. I was sleeping in the living room of one of the coziest airbnbs I'd ever stayed in. I was tired but couldn't sleep from all the buzz, not to mention we ate late at Slows BBQ and I was still digesting the brisket enchilada. Staring at the ceiling I imagined that the traffic was the sound of ocean waves, trying to sooth my nervous, excited mind. Then I'd hear a group of tipsy locals chattering on as they passed by, bringing me back to reality.
"I'm in Detroit, tomorrow I begin designing for Flower House."
My alarm doesn't go off, instead I wake-up to the shuffling of designers taking their turn in the bathroom. I go to check my phone and it's completely dead despite the fact that I had it plugged in. No charge. No way to contact people. No addresses. Hmm. I plug it into a different outlet. No luck. Then into my computer. No luck. Frustrated, I get ready and head downstairs for a coffee. As I go to pay for my coffee and mom's tea I notice that my engagement ring is missing. "I never take it off," I murmur to myself. "Unless I'm baking and I always put it in my apron pocket," but I haven't been baking. Immediately, I rush upstairs to search, mom behind me and as we begin sifting through the freshly folded bed sheets and red quilt, mom looks down at the carpet and there it is, just sitting there, waiting for me. I pick it up slip it on, try to take it off, "see when it's on it doesn't come off easily" I repeat as I pull it towards my knuckle. I'm now about an hour late, still no coffee and suddenly realize I feel like I'm still sleeping, having one of those terrible dreams where you can't get to where you need to be. My phone beeps, it's up and running and there it is again, reality, I am awake. I take a deep breath and we head back down to Atro Coffee where flowers and native herbs are sketched on chalkboards, succulents and cacti grace the windows, people are friendly and a black coffee awaits.
I think I'm still pinching myself. Flower House Detroit was truly like a dream that I'm still waking up from. And despite this frantic recollection of the start, I loved everything about my time there. It reminded me that the dream is now. It's not later nor has it passed. It's each moment. The peak of a mountain, the depth of a canyon, tea in the snow, coffee in the sun, losing my engagement ring, finding it, an old abandoned distressed home of plaster, lathe, vintage wallpaper and broken fixtures filled from floor to ceiling with flowers, communities making beauty out of loss. Sorrow. Celebration. Death. Life. Death. Rebirth. Destruction. Art. Chaos. Order. Lost. Found.
Detroit taught me that it's not what you have but how you live that matters.
Tired and full, beaming with happiness, wine and food we gathered together on our last design day. Lisa stood to read SWAN by Mary Oliver… "And did you feel it, in your heart, how it pertained to everything? And have you too finally figured out what beauty is for? And have you changed your life?" - I gasped, it acutely resonated with my belief in humanity's need for beauty, for art, and so the words wound around my mind, interlacing, over and under like a braid, taking me into another piece by Oliver in A Thousand Mornings, one that's lingered below the surface of my subconscious and without knowing, influenced my decision to attend Flower House and how I would design the upstairs bathroom:
It didn't behave
like anything you had
ever imagined. The wind
tore at the trees, the rain
fell for days slant and hard.
The back of the hand
to everything. I watched
the trees bow and their leaves fall
and crawl back into the earth.
As though, that was that.
This was one hurricane
I lived through, the other one
was of a different sort, and
lasted longer. Then
I felt my own leaves giving up and
falling. The back of the hand to
everything. But listen now to what happened
to the actual trees;
toward the end of that summer they
pushed new leaves from their stubbed limbs.
It was the wrong season, yes,
but they couldn't stop. They
looked like telephone poles and didn't
care. And after the leaves came
blossoms. For some things
there are no wrong seasons.
which is what I dream of for me.
I knew the feeling all too well of my own leaves giving up and falling. I twirled the multicoloured autumn leaves of Virginia creeper into a shower, spiraling down like a hurricane into a pool of white mums. Lilies, Zinnias, Dahlias, Ferns and Amaranthus spilled out of the broken toilet while snapdragons lined the ceiling with snowberry and an ombre waterfall of garden roses greeted you at the door. Spring in Fall; "and after the leaves came blossoms. For some things there are no wrong seasons.
This is what I dream of for me." It plays over and over like the supertramp record that's on in the background
There are times when you feel a pull towards something, a magnet drawing you closer, an ache in your gut so strong that if you were to deny it, you'd be sick. Flower House was that for me. When Lisa Waud asked me to be a part of the team I was in Calgary. Without hesitating I said yes and a month later I was on a road trip to Detroit.
We were in Calgary to sniff out a potential job for Sim but while we were there he was offered a position at a UK based company expanding to North American. He took it and has been travelling ever since. We've basically seen each other for 48 hours or less during the past couple months. At times arguing over the division of labour -- who works harder -- crying (mainly me) over the distance, always kissing to make-up before he catches another plane. This time apart is teaching us to be more intentional with each other, to really hug one another, to listen more attentively, to be present because presence might not be there next week and to be more honest because, frankly, we don't have time to beat around the bush for days on end. In a strange way the distance has brought us closer and I'm not so afraid of it anymore.
When Sim flew into Detroit on a layover from Washington to see the exhibit, we went for lunch at this wild child, hippie café called Rose's Fine Food where they pay their workers a fair wage so tips can go to a local charity. There are some really good people in the world; especially in Detroit. We ordered coffee and chicken sandwiches and all I could do was stare longingly at him while he talked. Almost forgetting we were married but knowing so intensely why we are.
At Flower House I made friends from Detroit, Ohio, New York, California, Pennsylvania, Petosky, and my neighbours in Toronto – we had our very own Canadian corner and the gals I met were the most encouraging, talented bunch of flower enthusiasts. I was a small fish in a big pond of the flower world. When I began A Fine Medley I only knew the names of a handful of flowers (I pronounced anemone wrong when requesting them from a local florist), I'm not formally trained in design and I haven't studied horticulture. I was out of my league but no one made me feel that way.
Flower House was the best kind of avant guard.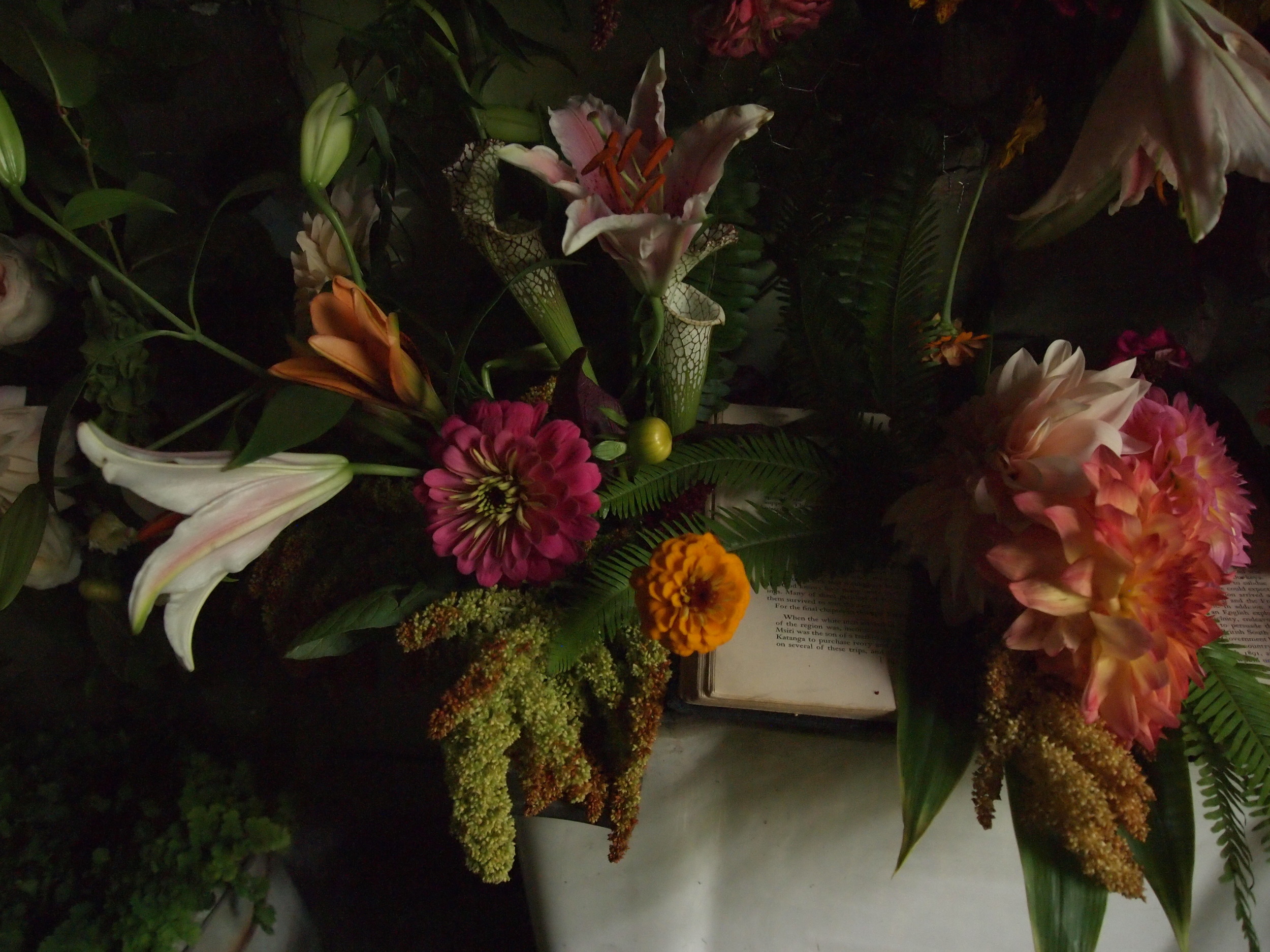 The buildings and people of Detroit showed wear and trial, overgrown blighted plots, but kindness, hospitality and artful expression are my lasting images. Colour persisted in bleakness, and it was this juxtaposition that stood out to me during my visit. Before summer's end I was struggling with where to take A Fine Medley but after being around such free loving, inspirational high spirits, all working collectively for the sake of art, my faith in why I started AFM was renewed. I went to see the Heidelberg Project on my last day and met artist Tyree Guyton (what a legend). He was doing yard work when I ran into him, not too proud or established to still do the hard and heavy work of land maintenance, even if it is a 29 yr old artist installation. "It's my purpose, if I died tomorrow I'd be okay because I am living the life I was meant to live," is what he said to me on why he began Heidelberg. He went on to say, "you're an artist, I can tell. You're going to be afraid, that's normal. But when fear approaches take notice because it usually means you need to push through it." I'm holding onto these words from this modern day prophet.
I want to grow unusual, lush varieties of flowers, trees, shrubs, decorative herbs, veggies and fruit all over this industrious, ambitious city of Hamilton. I know that if I want caramel bearded iris, passionflower vine, chinese dogwood, blue poppies or black hellebores I'm going to have to grow them. I want people to be awestruck by beauty, and not just those who can afford it, but everyone who walks by the urban farms - to learn the restorative nature of the garden, patience and care; to compost our waste; to create alternative economic development opportunities through urban flower growing; to use those blooms to service AFM and other local florists - but above all, to live a little more dangerously and to know the best parts of being human.
Sometimes I feel like my dreams are too large and other times that they are too small. If I had a dollar for every time I put limits on my ideas then I'd have enough money to fund them. I know what I want to do but I can't do it alone. I need a community and that's been a big hurdle for me in all of this. Even writing it down here seems nuts to me. Makes it more real or something. But watching Lisa pull together a band of people to help make Flower House was an electrifying jolt that rekindled the fire in my belly to get started. Detroit, you dreamland, thank you.
To read more about the Flower House and what we did visit:
Debra Prinzing Slow Flowers Podcast